Chaperoning
Fox Casting has a number of chaperones available to accompany children on their acting and modelling jobs. Camilla is herself an experienced Chaperone (Matron) and approved by Newcastle City Council to be in charge of children taking part in performances; film, TV, Theatre, Modelling & Travel. All chaperones on our books are experienced and have clear DBS checks.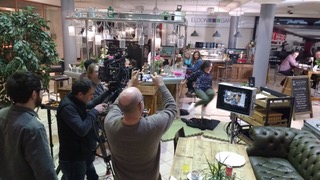 Fab cast and extras from Fox Casting on set at the Gala Spins Commercial.
Camilla Fox has had her other professional hat on, busy working as Location Manager at Bamburgh Beach for Northern Stage. Luckily the sun was shining bright.
Congratulations to our wonderfully talented actor Sophie Boyd. Great work!  https://youtu.be/-QcBy9rBiqA
Join Us / Book Us!
If you are interested in joining our books or wish to cast some of our artists, send an inquiry and we will get straight back to you.